Read Time:
1 Minute, 56 Second
WordPress has a lot of available plugins. Most of them are free on WordPress' plugins repository and are available to easily be installed via WordPress' plugins management page in the admin dashboard. Some are free plugins that are not in WordPress' plugins repository. Some are plugins you need to buy. The last two types require a manual installation as they are not on WordPress' plugins repository. Let's learn how to upload a new plugin to WordPress, install and start using it.
Downloading the plugin
After you find the plugin you want to install, you will be given a .zip file. This .zip file contains all the plugin's files including HTML, CSS, JavaScript, PHP, images, and anything else the plugin requires.
There are a lot of websites you can buy plugins from. One of them for example is CodeCanyon or EnvatoMarket. After you buy a plugin, you can usually find it in your account dashboard on the website you bought it from. Some of them will email you the .zip file you need to install.
Upload the Plugin to WordPress
In your WordPress website's admin dashboard, open the Add Plugins page. You can do that by finding the Plugins section in your admin dashboard and then clicking on "Add New".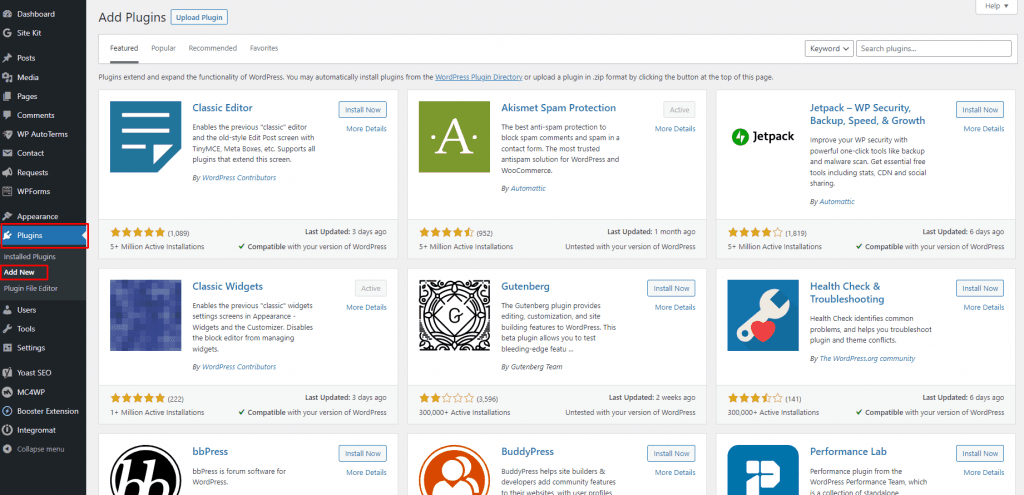 Here, click the "Upload Plugin" button and a new section will appear.
You can upload the .zip file either by dragging it from your file explorer to the gray box or by clicking the "Choose File" button and finding the file in the new file explorer window that pops up.
After uploading the .zip file, click on "Install Now" to start installing the plugin. Behind the scene, WordPress will now extract the .zip file to the plugins folder.
Using the Plugin
That's it, now you know how to upload a new plugin to WordPress and the plugin you have just installed is ready to use. Most plugins will add a new item to your admin dashboard's menu, either as the main item or in a dropdown, under another main item. If you can't find it, go to your plugins management page, find the new plugin, hover it, and there might be a direct link to the plugin's settings page.